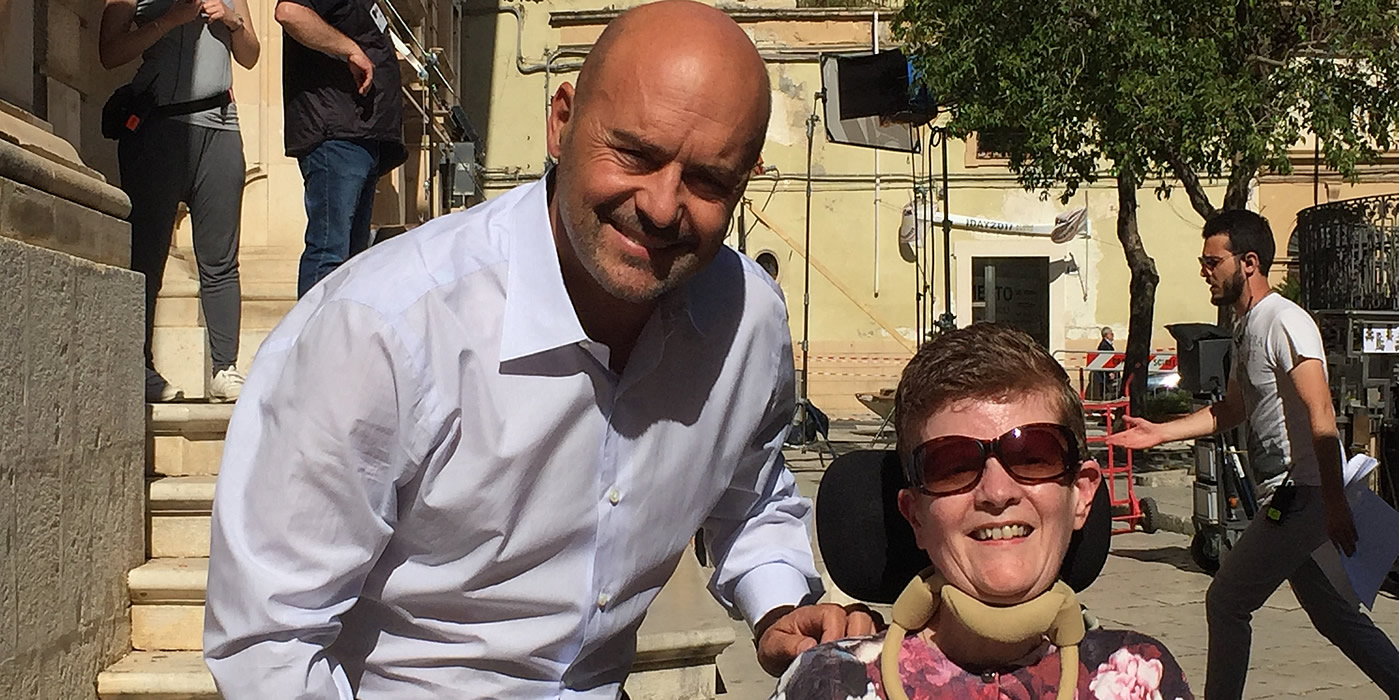 Sicily
Accessible
Tours
Land of treasures and beauty
for wheelchair users free to travel
Sicily accessible tours wheelchair travel disabled solutions
Home
Sicily accessible tours wheelchair travel disabled solutions
There could be thousands of accessible journeys dedicated to this unique and extraordinary island.
Situated in the center of the Mediterranean Sea, Sicily has always been a crossroads of cultures.
It representing one of the most desirable disabled accessible holidays in the world of wheelchair friendly tourism.
Thanks to the favorable climate and the great wealth of tourist destinations attractions.
The crown of cultures, has been influenced by Phoenicians, Greek, Roman, Arab, Spanish, Byzantine, Norman, Swabian.
With clear and sparkling Arab beings in historical markets.
A variety of dialects resulting from a melting pot of Oriental, Spanish, Greek and Latin heritage.
Sicily accessible tours wheelchair travel disabled solutions keeps track of millennia cultures in every corner of the island.
Every attempt to list travel destinations would be wrong for the many other places to visit.
Sicily accessible tours wheelchair travel disabled solutions organizes disabled accessible tours in the main tourist destinations Taormina, Giardini Naxos, Cefalù, Piazza Armerina, Selinunte, Segesta, Valley of the Temples and of course Catania and Palermo.
And each of these accessible destinations represents the beginning of as many wheelchair friendly discovery trips.
Tourism in Sicily lives on its shores, with over 1,000 km of coastline divided between sandy beaches, cliffs, coves, reserves.
But the island is not only sea and beaches.
In every seasons cities of art are "attacked" such as the capital city of Palermo, Baroque cities of Val di Noto like Ragusa Ibla, Scicli, Modica, and the delightful medieval inland villages like Erice, Gangi, Corleone.
But there are also the mountains and volcanos.
Starting with the "Mountain" for excellence, Mount Etna, sprawling from every corner of the island, constantly reaffirming its presence with fanciful pyrotechnic shows.
Sicily Accessible Shore Excursions
Sicily accessible tours wheelchair travel disabled solution is a all seasons destination.
Here tourism does not know seasons, thanks to a mild winter climate, which makes the Sicilian cruises stops unique and enchanting throughout the year.
Sicily is the first among the regions of Southern Italy for the number of cruise passengers in transit, or daily stop for the visit of the city, and is the second among the Mediterranean islands.
On board of our full accessible van with electronic lift and with multilingual professional drivers we will take you to the most important cultural and tourist attractions of the island.
All the Sicily Accessible Shore Excursions listed on our site start and end at the stalls placed at the exit of the cruise ship of each port, Palermo Shore, Messina Shore, Catania Shore and Syracuse Shore, where you will find our van drivers who will take you to your destination, a tour last long nine hours.
If you want high quality service at affordable prices, we can definitely offer you the solution you were looking for.
Do not forget to depend on other people, choose your itinerary, what to see, how and when.
We will be organizing with you the best personalized Sicily Accessible Shore Excursion and we will be happy to guide you in your choice and show you the many available alternatives.
Accessible Sicily Transport
One of the most difficult obstacles to overcoming in Sicily is the accessibility of the means.
Many buses and taxis are not equipped with a mobile platform and even taking the train is difficult as not all the stations have the lift and the cabins are often too narrow to enter for a wheelchair user.
But Sicily accessible tours wheelchair travel disabled solution has resolved all these issues with simplicity but effective resolutions with a perfect full accessible van with electronic lift.
Travel with us without any problems and Sicily will be at your fingertips.
Accessible Hotels in Sicily
For a disabled tourist to organize a trip without having to think months before booking a suitable room or choosing the means to move it is not a simple business.
It is difficult to find a hotel that has the law-compliant bathroom and the large rooms that can allow those who are like me in a wheelchair to move freely.
Click on the page link Accessible Hotels previously previewed by our staff.

Land of treasures and beauty
Land of treasures and beauty
Land of treasures and beauty
Arizona - USA
19th September 2019
Enzo is a delight to work with. Made helpful suggestions that improved are overall ...
Land of treasures and beauty
Land of treasures and beauty
Land of treasures and beauty
River Forest - USA
20th October 2017
Three years ago, after major back surgery, I cried for several days believing I would...
Land of treasures and beauty
Land of treasures and beauty
Land of treasures and beauty
Dublin - Eire
11th October 2016
We've been on 4 trips with Vincenzo, Sorrento, Florence, Bologna Sicily...